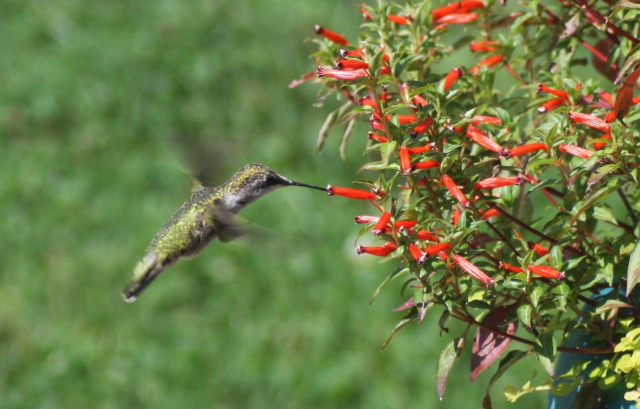 Custom Search
History of Dana's Garden Place
Dana's has been owned by me, Dana Gilmore, since 1987. I got my love of gardening and the outdoors from my parents.
My dad gardened vegetables. My mom gardened flowers. When I was young I thought my mom was crazy. She worked at a factory all day and came home to pull weeds in the evening.
Little did I know how therapeutic and healthy gardening was to become for me too.
There is no better exercise than gardening and greenhousing.
My mom and dad went on to run Forney' s Greenhouse from 1974 to 1986. Then upon their retirement we moved the business here.
We have greatly expanded the selection of plants we grow although I still carry some of my mother's favorites.
Check out "Jim Benton's German Johnson" tomatoes and 'Blue Victoria' salvia. These are still 2 of my favorite varieties.One of our customers brought us the seeds to the German Johnson tomatoes and we have been saving seed from his original ones for over 30 years now.
I also follow my Mom's tradition of growing the best selections for our area. Life is busy. We don't all have time for fussy plants.
If you visit us, you will see this is not a fancy place.There are trees, flowers, dogs, birds and butterflies and bullfrogs in the pond.
Our plants are always fresh and well tended and our staff is always available to answer your questions.If we don't know we will try to find the answers to help you with your gardening endeavors.
Dana's is pleasant and kid friendly. So Please stop by for a visit!
What About the Plants?
We sell Hanging Baskets, Container Gardening Plants, Annual Bedding Plants, Vegetable Plants, 50 +Tomato Plant Varieties, Pepper Plants, Herb Plants, Unusual Perennial Plants, Flowering Shrubs and Knock Out Shrub Roses. There is a pretty good selection of Hydrangea on order for this season too.
House plants have come back into vogue and we have a good selection.
We discontinued water garden supplies but still carry the floater plants: Lettuce and Hyacinths.
We may also have a few odd water plants from my own pond.
What else do we sell?
Fairy Garden plants and Items, Corinthian Bells Wind Chimes, imported decorative pottery.